PODCAST
Why Turnover is so High in the B2B Sales?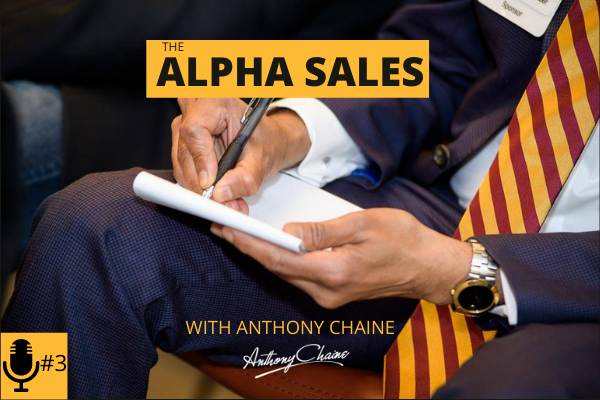 Salespeople turnover in the B2B environment is more than 35% in the United States. The VP's of sales tenure has decreased to less than 16 months. In some industries, employee turnover exceeds 50%. Some organizations replace their whole sales force and sales management teams every 24 months—that 100% turnover.
The cost is staggering, and it's not sustainable for any size organization. The irony this turnover can be avoided ad reduce to a healthy controllable, and predictable minimum.
This podcast will explain the challenges and the best solution to overcome this issue, whether you are a small entrepreneur or a large organization. The answer is within your grasp.
Salespeople turnover average around 34.7 % per year In United State. However, it can widely vary across industries and companies. A modest amount of turnover is normal, expected, and can be healthy. Every company has poor performers, and it's a good idea to bring new people with fresh ideas, different perspectives, capabilities, and attitude that prevents stagnation. Turnover rates near 35% can be expensive, requiring not only the costs of wasted training and investment, but also  the cost of acquiring a replacement. The margin of turnover we see across the industry is largely due to the expectation-variance between the employee and company in term of job requirements, performance and internal dissatisfaction factors.
Let me share with you some important Turnover Market statistics
According to the Bridge Group report, a company who surveyed more than three hundred fifty B2B SaaS companies. The average sales organization salesperson turnover rate is now 34%, with "involuntary turnover up nearly two-thirds of that number." The same research suggests that one in ten companies experience turnover rates above 55%. The new average time for reps to ramp to productivity has reached 5.3 months. On average, only 67% of reps are making quota, down from 74% in 2012. No matter how you spin it, the data reflects an unfortunate trend.
Benchmark data by SiriusDecisions denote that the top reasons high performing salespeople leave sales organizations is because of the following:
89% leave due to deficient compensation.
60%-80% leave due to lack of connection with leadership or incompetence of leadership.
75% leave because of concerns about the company ability to meet market needs.
One should note that a right amount of turnover is healthy, but too much turnover can be financially crippling. Salesforce turnover is lower in industries such as pharmaceutical companies. The median turnover in 2015 was about 23%. A recent MedReps survey found 43 percent of responders were satisfied in their jobs. Yet, as many as 88% of those medical sales professionals polled were looking for new job opportunities, primarily due to the volatility of the position and unrealistic expectations.
Top companies experience a voluntary turnover of just about 19%. The payment industry suffers a turnover of 35%-40% and is significant in term of the cost incurred and revenue lost. Losing good performers in droves can inflict considerable financial harm on even the most robust sales organizations.
Poaching of salespeople is another significant issue especially in industries where established relationships mostly drive high sales ticket. Competitor often lures salespeople with a solid book of business with irresistible offers in the wealth management business as well as in the digital advertising space.
A medical equipment company discovered that its attrition of underperforming first-year salespeople was a significant financial strain. Each departure cost on average four times the annual salesperson salary. It was a major recruiting and training investments loss that created a cloud of desperation among hiring authorities who start speeding up the hiring process to fill meet demand, aggravating the source of the problem.
An independent sales organization estimated that it would take five years for the company to recover from the loss of a 25-year veteran that has unique knowledge and connections selling into states and government verticals.
A major bank lost its top revenue generator which usually brings more than $300 million worth of business on a yearly basis because the SVP wouldn't agree to a minor well-deserved salary increase. The salesperson was offered double salary, higher bonus and a promotion to join a competing regional bank. Several of his peers followed his footsteps, joining the competing bank based on his recommendations. The SVP was terminated for being responsible for talent exodus.
Is there safety in the size of the company you work for?
SiriusDecisions research indicates that 45% of B2B sales organizations report annual rep turnover higher than 30%. This turnover rate hurt productivity, especially if the company loses its high-performing salespeople, who are the fuel of any sales organization.
No business is safe from turnover impact. Companies with the highest turnover are mostly in retail and information technology industries. The primary reason is Generation Y, fundamentally doesn't value job loyalty the same way baby boomer generation did. Many have seen their parents lose their pension and job during the last recession.
Here's how long employees are staying at the 10 biggest companies in tech:  You may be surprise with the data below!
Facebook: 2.02 years
Google: 1.90 years
Oracle: 1.89 years
Apple: 1.85 years
Amazon: 1.84 years
Twitter: 1.83 years
Microsoft: 1.81 years
Airbnb: 1.64 years
Snap Inc.: 1.62 years
Uber: 1.23 years
What's the Direct Cost of Salesforce turnover?
Departures cost: In term of administrative costs as well as possible severance pay costs or employment insurance contribution cost.
•  Internal recruiting expenses: identifying a new applicant, screening through the maze of resumes, interviewing and testing candidates, and the massive effort to bring someone on board.
•  External recruiting costs: which often include fees paid to employment agencies and headhunters as well as the expenses related to advertising the position and promoting the post on the job boards.
•  Onboarding costs: including a new hire's travel to attend training and moving expenses. As well as the cost related to the candidate background check and immigration validation cost.
•  Training and ramp-up costs: which include the cost of both formal training and coaching by manager and peers to help the new salesperson get up to speed.
•  Reputation cost: Top candidates screen companies before joining, firms with less than stellar brand reputation and high turnover lose the opportunity to win top talent.
•  Marketing cost: top corporations receive massive voluntary numbers of resume from top candidates willing to join and excel for a fair market value. High talent appeal usually deters lower qualified applicant from applying, creating 'excellence pools' the company can tap into at will.
How van you Manage the Withdrawal Period?
Most sales organizations recognize the direct costs associated with salesforce turnover. However, many frequently overlook the loss of opportunity from a revenue perspective. Sales erosion begins when a salesperson starts thinking about leaving his current position and mentally checks out by doing just the minimum concerning performance to stay out of the sales manager radars. Upon departure the vacant territory suffers, existing customers get neglected, issues and calls get ignored creating a farther erosion. During the ramp-up period (3-6 months), while learning the job, most new hires are not productive. Sales are lost during the withdrawal vacancy period as well as during the new hire ramp-up period.
Managing employee retention and turnover takes an incredible amount of effort and time. The closer the sales manager is to his team the more natural to keep top performers on board. Matching occasionally a competitive offer to stay a top performer might sometimes be a good idea. Sales leaders need to use flexibility and empathy when addressing employee concerns and issues.
What is the Sales leadership impact
Arranging intermediary territory coverage by another salesperson can prevent top customer's attrition. The sales manager may have to assume part of the workload to assist the salesperson who volunteered to consider intermediary territory coverage until a new hire takes over. However, beware, when sells force turnover is excessive, one must evaluate both internal triggers and damaging external forces. One must study causes related to compensation structure, leadership deficiencies, sales culture, territory alignment, job expectations, employee misalignment, organizational instability, upward mobility processes and confidence issues among many other things.
What to do in case of unrealistic Expectations
Salesforce turnover can originate both outside and inside any sales organization. However, it's critical to explore why it's happening. Losing one top salesperson should trigger a thorough investigation to minimize reoccurrence. You want your top employees to feel valued, appreciated, stay onboard and refer other top talents to join your sales organization.
18 Reasons for employee turnover. 
1.  Compensation structure below market pace, or unpredictable compensation changes.
2.  Products have little market demand and low appeal.
3.  No work-life balance. Too much time spend on non-sales activities.
4.  Toxic sales culture.
5.  Unrealistic quota assignments regardless of market conditions.
6.  Reduction of commission rate for no apparent reason year-of-year
7.  Lack of confidence in the offering, no differentiation factors.
8.  Lack of recognition for exceptional work.
9.  Expectations are unrealistic, promoting internal mistrust.
10.  No evident upward mobility and growth path.
11.  Incompetent sales leadership team.
12.  Promotion based on favoritism rather than merit, where team members are treated differently.
13.  Tarnished corporate brand name.
14.  A weak support system, hurting the sales force.
15.  Inadequate training and coaching process.
16.  Poor valuation, appreciation and reward system.
17.  Leadership poor decision-making.
18.  Concern about company financial stability.
Does it pays to care for your employees?
Companies that enjoy good brand reputation tend to have good products/services and tend to have low turnover and high employee morale and pride. The quality of the company leadership and internal culture affects employee's performance and overall happiness.
Studies have demonstrated that happy employee produces more, their level of contentment and job satisfaction is extremely high. They serve as excellent voluntary promotional ambassadors for the company because they are contributing to a more senior cause, they are building a better future for all while learning and growing themselves.
Managers who are not responsive to their salespeople needs and requests, refuse to motivate. And, do not take the time to provide concrete feedback and coaching on the sales activities and behaviors that can lead to better performance will experience significant turnover.
The sales manager relationship strength with his salespeople is key to minimizing turnover and improving retentions for the sales organization. Additionally, salespeople making goals and money tend to be happier and are more likely to stay the job.
How Can you minimize turnover
Know your salesforce motives and aspiration and pay attention to the performance level of your salespeople as well as the causes that hold them back. Most issues can be resolved through genuine collective debates.
Your team members should understand and become aligned with the following: First. Job responsibilities, roles and territory alignment. Second. Career advancement path, internal sales culture, salesperson development and coaching process. Third. Compensation structure and goal setting process, recognition systems, Company performance management process and expectations, critical metrics and KPI's, team feedback and appreciation systems.
People want clarity, transparency, and honesty. The sales manager should ensure that his salespeople understand from the very beginning what's expected of them and how they can get there. Everyone should be intimately familiar with the tools and support systems provided to allow goals accomplishment.
Do the following: 13 Tips
1.  let everyone know how much you value and appreciate their hard work.
2.  Help everyone develop the skills and knowledge needed to be successful.
3.  Treat everyone consistently with fairness, respect, and dignity
4.  Push and pull your salespeople to achieve stretch goals.
5.  Consistently celebrate wins with the same excitement and enthusiasm.
6.  Create a positive sales culture that encourages creativity, fun and high performance.
7.  Listen to feedback and concerns attentively, and implement required changes.
8.  Empower people to make decisions and encourage mistakes to allow individual experimentation and growth.
9.  Do not sugar coat realities, be honest, people appreciate corporate courage.
10.  Compensate fairly, help your salespeople to go after lofty goals.
11.  Promote often those that deserve the position based solely on merit.
12.  Put in the guideline and coalesce people behind the achievement of your vision and the company goals.
13.  Be humble, and implement the doctrine of genuine concern across the board.
Conclusion
Taking appropriate, timely actions and acknowledging external market changes that may affect your company growth and product competitiveness is essential. Employees need to work for a leadership that is transparent and supportive. Your salespeople will support you on good and bad times as long as you are honest, straightforward and you treat everyone with respect and integrity. Good leaders influence controllable turnover by doing everything possible to retain their top performers and anyone with high potential.
Turnover is primarily due to the incompetence of sales leadership and poor company decisions. Any organization that value human dignity, respect its employee and treat them right will experience excellent talent retention and favorable market reputation.